All in One Place
Simplify, collaborate, and succeed with a centralized data platform designed to elevate your organization.

Unified Data Integration
Microsoft Fabric simplifies the complex process of data integration by seamlessly connecting and consolidating data from diverse sources. Experience seamless data ingestion, transformation, and integration to unlock the true value of your data.

Scalability and Flexibility
Scale your data processing capabilities effortlessly with Microsoft Fabric. Leverage its cloud-native architecture and Azure's scalability to handle large volumes of data, ensuring your infrastructure can adapt and grow with your business.
Analytics and Insights
Derive actionable insights from your data using Microsoft Fabric's advanced analytics capabilities. Equip each role with a suite of personalized analytics tools that help them independently generate real-time insights.

AI-driven Capabilities
Quickly interpret data and create Azure OpenAI experiences using an array of AI features available with Copilot in Microsoft Fabric. Coming soon.

Unified Data Processing
Seamlessly transform, analyze, and visualize your data within a single platform, eliminating the need for disparate tools and enabling seamless collaboration across teams.

Data Governance and Security
Implement fine-grained access controls, monitor data usage, and protect your sensitive information with enterprise-grade security measures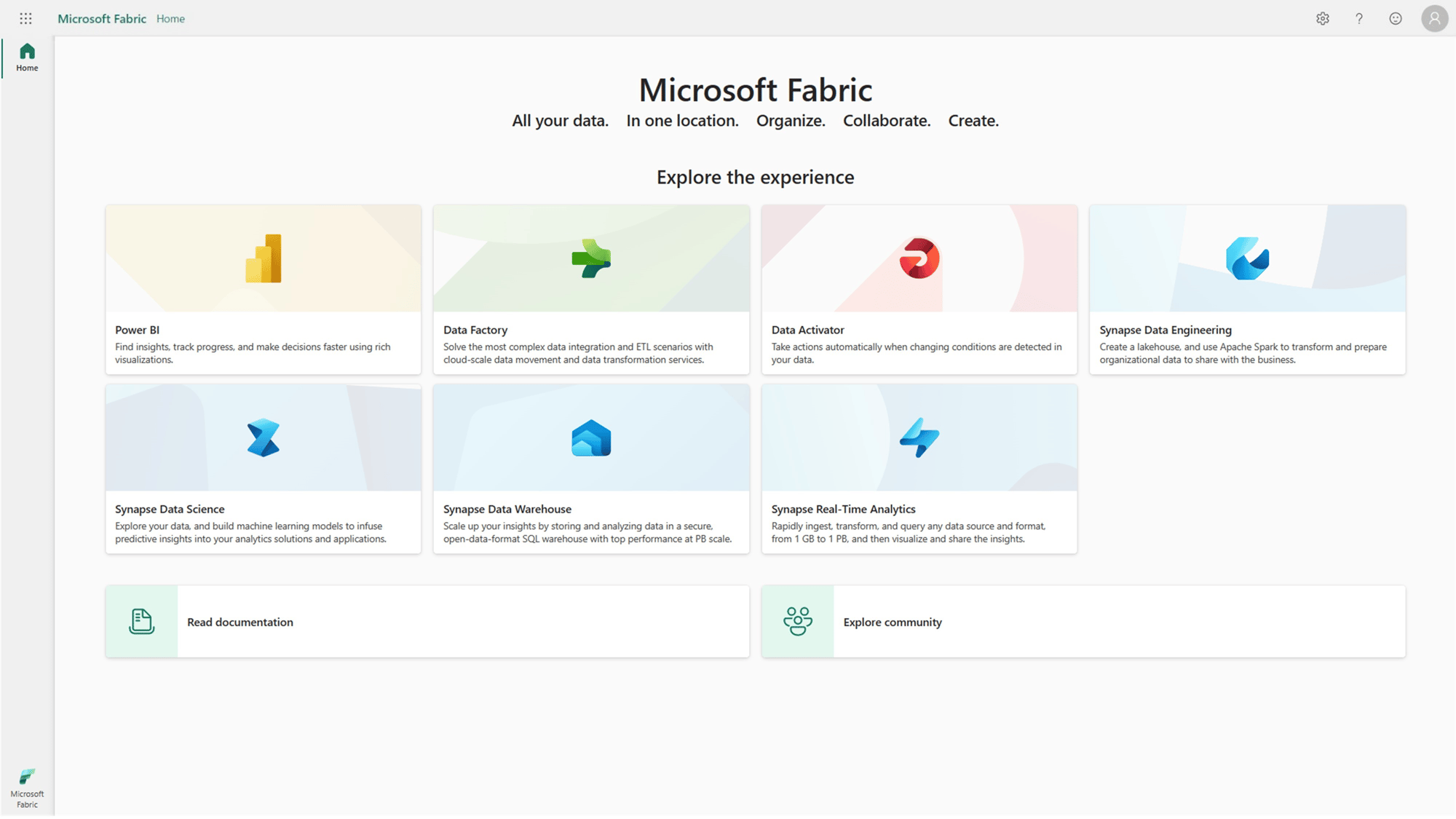 Collaborative environment
Work seamlessly across teams and departments on data-related projects.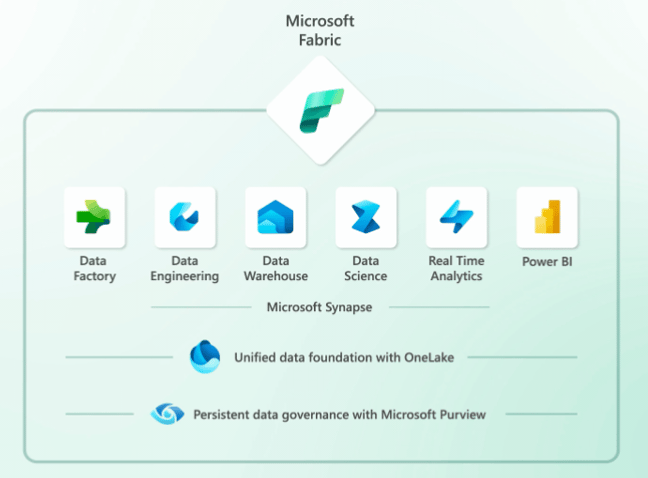 User friendly
Empower nontechnical areas of the business to leverage the power of data to make informed decisions.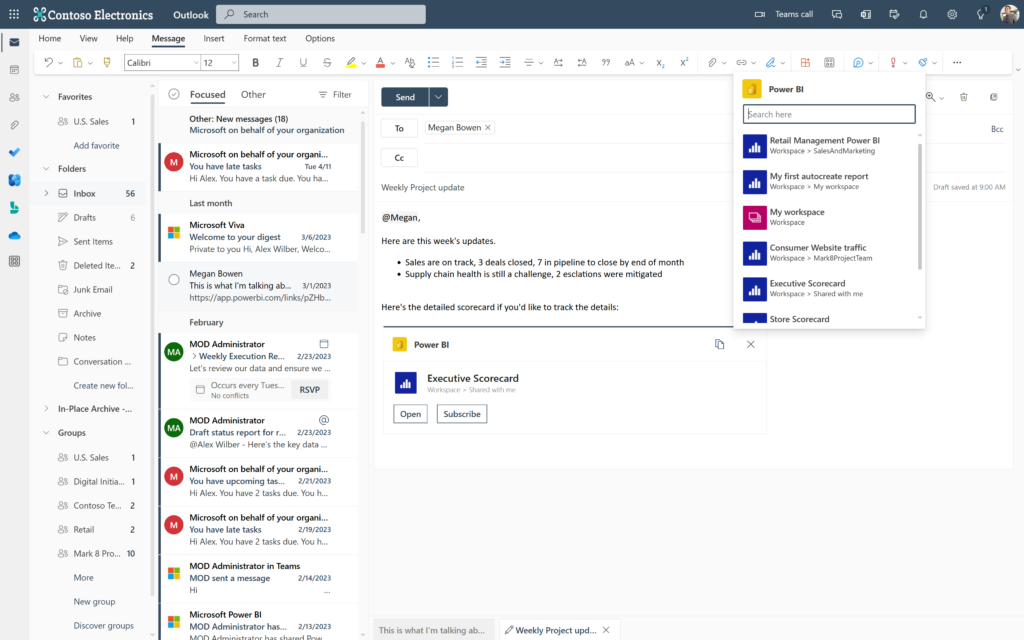 integration with other Office tools
Once you create your data story using Power BI, as you may assume, this story can be seamlessly integrated within other Office tools, such as Excel, PowerPoint, Teams, Outlook, etc.
Microsoft Fabric services
How can we help you?
At Data Courage, we specialize in implementing Microsoft Fabric and leveraging its full potential for our clients. Our team of experienced professionals has extensive knowledge of the platform, ensuring a seamless and successful implementation tailored to your organization's unique needs.
If you're currently using other analytics solutions and looking to transition to Microsoft Fabric, our team provides comprehensive migration support. We help you seamlessly migrate your data, workflows, and analytics processes to ensure a smooth transition and minimal disruption to your operations.
We assist in building robust data lakehouses using Microsoft Fabric, leveraging the power of Azure Data Lake Storage Gen2 and the unified OneLake architecture. With our expertise, you can unlock the true potential of your data and enable advanced analytics and insights.
Our data science services using Microsoft Fabric empower your organization to harness the power of machine learning and predictive analytics. We help you build, deploy, and operationalize machine learning models seamlessly within the Fabric environment, driving data-driven decision-making.
Efficient data movement and integration are crucial for successful analytics. Our experts assist in creating optimized ETL/ELT (Extract, Transform, Load/Extract, Load, Transform) flows using Microsoft Fabric, ensuring smooth and reliable data pipelines for your analytics processes.
Our experts specialize in implementing robust data governance practices and ensuring the security of your data within Microsoft Fabric. From access controls to data privacy, we help you establish a solid foundation for data governance and maintain compliance with regulatory requirements.
Our team is skilled in fine-tuning Microsoft Fabric to maximize performance and scalability. We help you optimize query execution, fine-tune resource allocation, and design scalable architectures to ensure smooth operations as your data and analytics requirements grow.
Our dedicated support team is available to address any questions, concerns, or issues that may arise. We offer proactive monitoring, troubleshooting, and maintenance services to keep your analytics environment running smoothly.